A single SIS installation can support multiple survey vessels simultaneously, and the EM system can be controlled from a remote location. The connection between the mother ship and the survey vessels is via a standard internet connection, such as KONGSBERG's Marine Broadband Radio (MBR). This setup provides a reliable Internet connection for the surveyor on the mother ship to monitor and control the survey operation on each of the survey vessels from one operator station.
Setting up SIS Remote is simple, requiring only network configuration. SIS provides all the necessary infrastructure for reliable communication no matter which Internet provider is used, and can be configured to use fast or slow connections within any price range. For satellite connections the amout of data can be filtered to only send updates of the terrain model at regular intervals. This will still provide the operator with sufficient data to perform accurate quality control and provide survey guidance. Using the faster MBR allows the operator hands -on control of the survey in real time. Survey planning in SIS is available in the office and during the survey. The new design allows for easy planning and transfer of survey plans to the right vessel. The NMEA XTE (Cross-track offset) sentence can be sent to autopilot, aiding steering along the active line. Additional advanced import and export options are also available.
A separate Helmsman display gives a view of the survey operation and the active survey line. This display is intended for the bridge personnel while the survey operation is controlled elsewhere.
View full details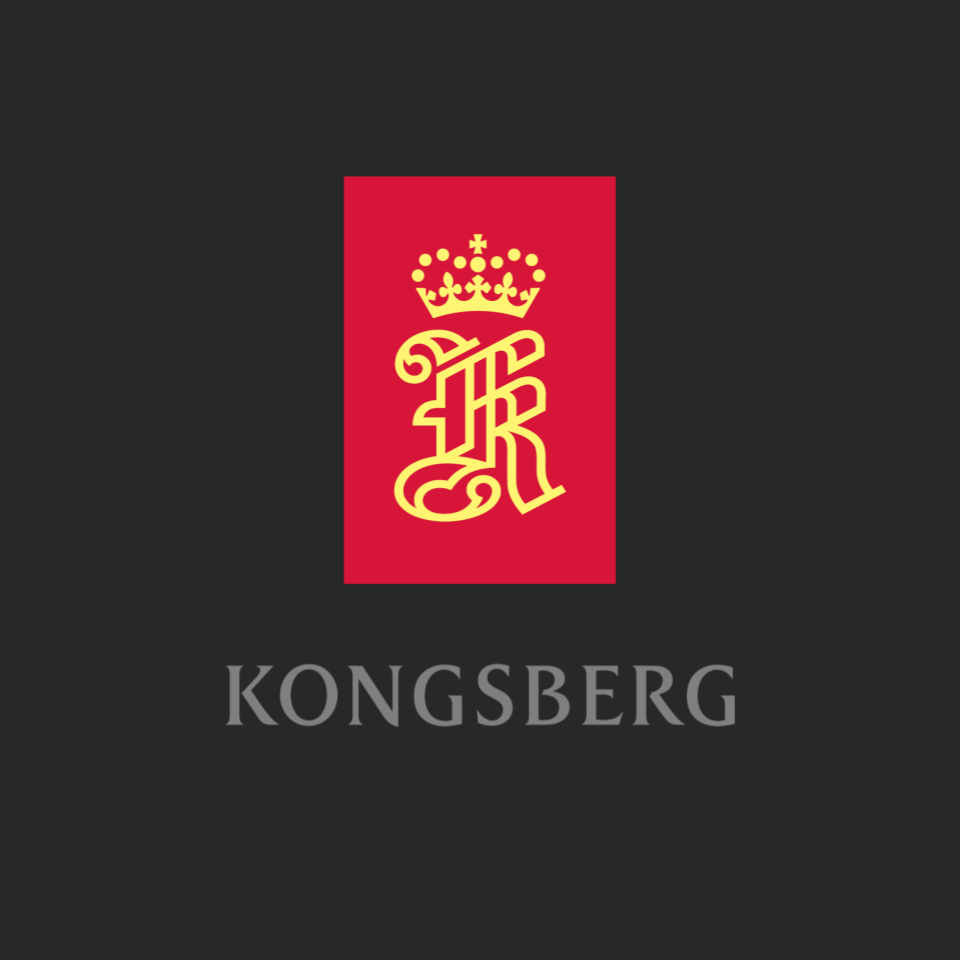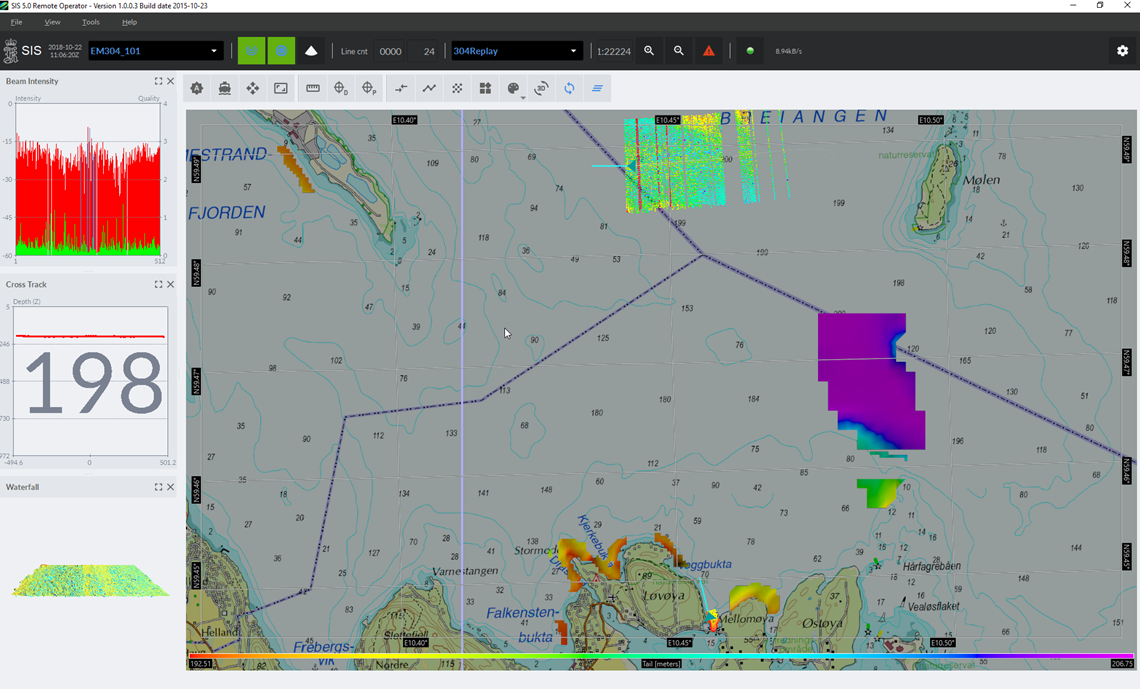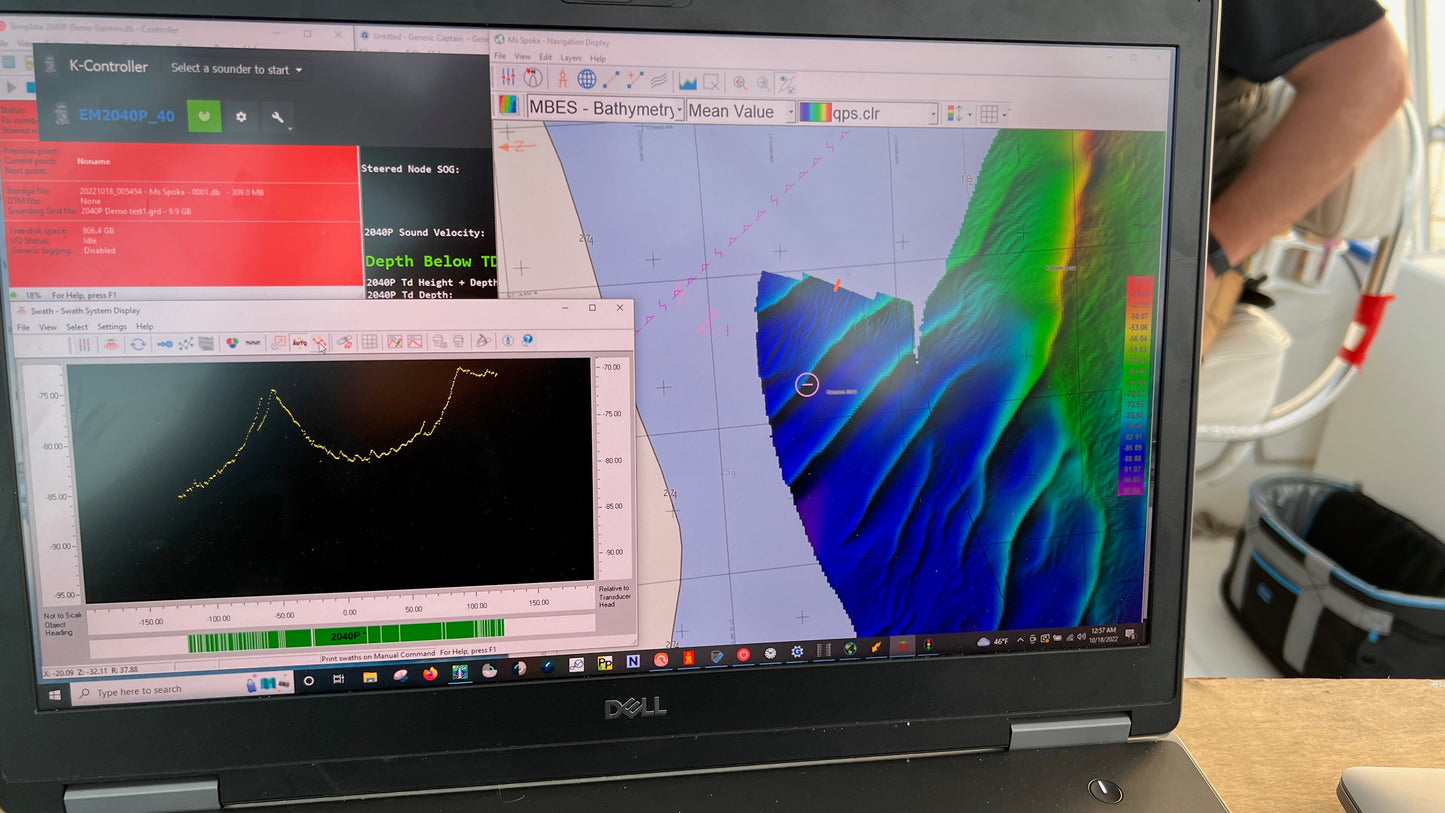 Collapsible content
READ MORE

NEW LOGGING FORMAT FOR EASIER POST-PROCESSING

SIS supports .KMall, the KONGSBERG logging format used by all of our EM systems. This format makes it much easier to post-process the logged data as it contains already calculated latitude, longitude, depth, time and ellipsoidal height. With SIS comes a complete set of documentation in .html format and examples in C++ and Python showing how to read the .KMall files. Software developers find this useful as it shortens the development time considerably.

BLUE INSIGHT

KONGSBERG has developed a Digital Ecosystem named Kognifai. Blue Insight is the solution which uses Kognifai to offer additional services in a cloud environment. Find out more kongsberg.com/maritime/blueinsight.

SIS 5 can send data to Blue Insight in real time, both remotely and during regular operation. Depending on the bandwidth and cost of the Internet connection, SIS 5 can be configured to send the right amount of data from the ship into Blue Insight in real time. Blue Insight is accessed through a web-browser so data can be processed and displayed anywhere on the Internet. Team collaboration and remote monitoring are now possible.

TOOLS PROVIDED BY SIS 5

System configuration
Define all lever-arms and installation angles for all sensors.
System calibration
Calibrate the installation for optimal performance, if and when needed.
Real time Digital Terrain Model, DTM
SIS continuously generates a DTM which can be compensated for tide effects. This gives the operator a high detailed 3D-view of the terrain as the surveys progresses. All depth points are also available in full resolution 3D display in real time.
System monitoring
SIS monitors all sensor input in real time. Any faults or dropouts are immediately reported to the operator.
Survey planning
The enhanched Planning module in SIS has been redesigned to allow single-click operations. This means that almost all commands can be carried out with the mouse only. Survey plans are easy to exchange between the office and the boat, or between several boats.
Background charts
Both GeoTIFF files and WMTS server input can be used to display background maps in SIS.
Helmsman's Display
A separate Helmsman's Display is provided. This can be show either on a second screen or on a separate computer close to the helmsman.
SIS Remote
Monitor and control one or more EM™-systems from a remote location, on shore or on another ship.
Connect to Blue Insight
Use Blue Insight to monitor the survey progress from all boats in near real time from anywhere on the Internet with the tools provided by Earth Analytic.

LICENSED OPTIONS TO SIS

Water column logging (for EM 124, EM 302, EM 710, EM 712 and EM 2040).
SIS Remote

SYSTEM INFORMATION

Operating systems supported: Windows 10 64-bits
Hardware supported: HWS
License control: By dongle connected to the USB port

ECHO SOUNDERS SUPPORTED